OB12-4 12 Element 4 Band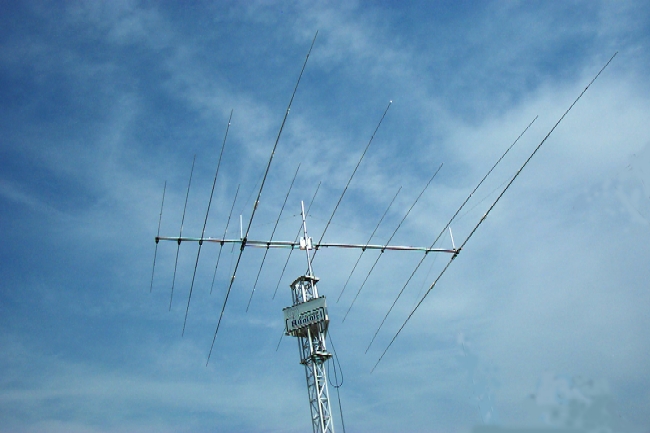 The OB12-4 is a high effective Yagi for the classical four bands 40, 20, 15 and 10m, four monobanders on one boom.

The OptiBeam high Q air coil reduces the length of the 40m elements nearly lossfree down to a little bit below convenient 15 meters.
Due to the patented OptiBeam "direct coupled driver feed system" and the especially developed "40m decoupling stubs" a non compromise feed with a single 50 Ohm coaxial cable is achieved.
| | | |
| --- | --- | --- |
| OB12-4 |   | 12 Element, 4 Band |
|   |   |   |
| Bands |   | 40 / 20 / 15 / 10 |
| Gain (dBd) * |   | 3,6 / 5,2 / 5,9 / 6,8 |
| Gain (dBi) ** |   | 10,5 / 12,5 / 13,5 / 14,5 |
| F/B (dB) |   | 15 / 25 / 20 / 20 |
| VSWR |   |   |
| 40 m allgemeines setting: |   |   |
| 7,00 - 7,05 - 7,15 |   | 1,6 - 1,1 - 1,9 |
| 40 m USA phone setting: |   |   |
| 7,15 - 7,20 - 7,30 |   | 1,6 - 1,1 - 1,9 |
| 14,00 - 14,18 - 14,35 |   | 1,4 - 1,1 - 1,4 |
| 21,00 - 21,25 - 21,45 |   | 1,2 - 1,1 - 1,4 |
| 28,00 - 28,50 - 29,00 |   | 1,5 - 1,1 - 1,4 |
|   |   |   |
| Elements (number) |   | 12 |
| Active Elements |   | 2 / 3 / 3 / 4 |
| Max. Elementlength (m) |   | 14.9 |
| Boomlength (m) |   | 7.6 |
| Turning Radius (m) |   | 8.36 |
| Feedlines (number) |   | 1 Coax 50 Ohm |
| Weight (kg) |   | 70 |
| Windload at 130 km/h |   | 1.250 N / 1,56 m² / 16,8 feet² |
|   |   |   |
| Price *** |   | 2.939,00 EUR |
* = average gain over dipol in free-space / for comparison: 2 el monobander 4 dBd, 3 el 5-6 dBd
** = average gain at 20m above ground (= dBd + 2.15 dB isotropic + about 5 dB ground reflection)
*** = outside EU minus 19% tax - subject to change